Success should be celebrated! And, once the party has ended, the path and process that yielded that accomplishment should be explored and recorded. A picture may be worth 1,000 words, but a video, article, or essay can be a priceless key that opens new and...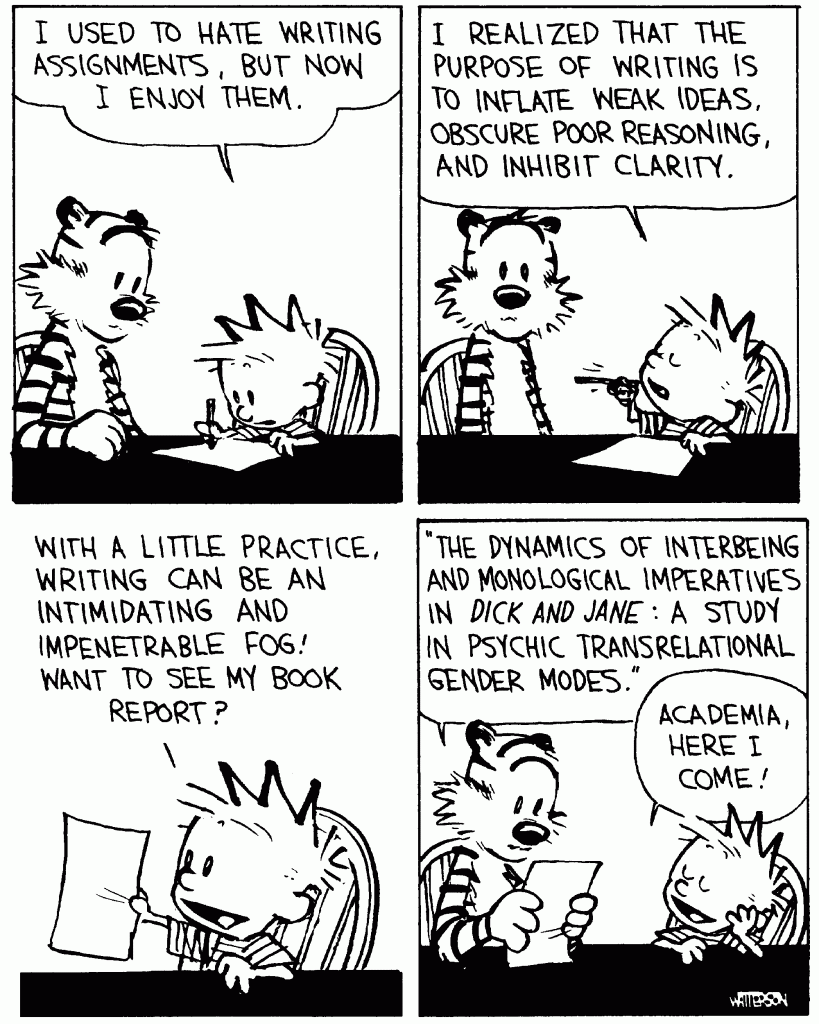 With his trademark understated cultural satire, Bill Watterson strikes a chord for all of us who are sick to death of—or at least hopelessly confused by— empty jargon, meaningless, business-speak and other words that take up space but communicate nothing. What you say...
"Adam is a consummate professional and highly skilled in his craft. Combined with his ethics and professional demeanor, I would work with him again, without hesitation, should the opportunity present itself down the road."
— Richard McLoone, President & CFO, Senior Advocate Services
"Adam is one of the brightest minds I've had the pleasure of working with. Talented beyond his years. Long form or short, great stuff! On time. At or under budget. I highly recommend him."
— Steve Gustafson, Owner, Gustafson Marketing & Consulting, Inc.
"Over the period of time I've known and worked with Adam, he has always been as he represents. Attentive to the issue at hand, hard working, creative in his thought processes, and, most of all, an admirable husband, father, and community-oriented person. I would not hesitate for a second to recommend him."
— Jim Gries, CEO, AmericareToday
"I have known E. Adam Porter for nearly a decade, during which time he has served as the Editor in Chief of our monthly community newspapers, The News of Kings Point, and The News of Sun City Center. I have been consistently impressed with Adam's attitude and productivity. His creativity is unmatched; his dependability is unrivaled. Adam is both very bright and quite motivated. He is a quick learner and has shown the ability to digest large volumes of information.
"Adam is a naturally skilled communicator, and has demonstrated an advanced ability to articulate information and ideas in both the verbal and written forms. His style of writing is excellent: conversational and accurate.
"Adam has also been effective in his efforts to engage the community. He has written interesting, original articles while simultaneously managing our oftentimes difficult group of community volunteer writers, and his editing of our hundreds of contributors has been excellent. Adam is willing to take risks, applying his creativity and natural leadership abilities to galvanize people into achieving their very best."
— John Wolf, Publisher and CEO, NOKP Media
"I have worked with E. Adam Porter and Atlas Media Ink for more than a decade, and the reason we've had such a long and profitable business relationship is because of two words: quality and professionalism. 
"Having worked with countless writers over the years, I feel safe in pointing out that not all writers are created equally. While it's not unusual to find someone trying to bill themselves as a writer, the reality is that many are not skilled at the craft. Even worse, most have no idea what it takes to write online to generate traffic for your site.  
"This is why Atlas Media Ink has always stood out amongst the crowd. When it comes to tackling an assignment I can't afford to have any mistakes on, and have little time to train someone to do it right, my first choice is always Mr. Porter. He consistently produces quality content quickly, that is perfect for our SEO and social media efforts. If he had the time, I'd chain him to his desk and have him do ALL our content work!"  
— Michael "Tomo" Albanese, CEO of Words Are Weapons, Inc.